Velaine Paryzek
Manager of International Programs
paryzek@law.stetson.edu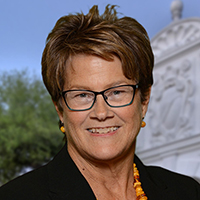 Velaine serves as the Manager of International Programs at Stetson University College of Law. She assists and supports the Director generally and specially with office management, Student and Exchange Visitor Information System (SEVIS) administration, international student and faculty exchange programs, and the Master of Laws (LL.M.) program in International Law. Since 1998, Velaine has served as a Designated School Official (DSO) through the U.S. Citizenship & Immigration Service for Stetson's international students on F-1 student visas and as an Alternate Responsible Officer (ARO) through the U.S. Department of State for Stetson's international exchange (J-1) visitors. Velaine is a member of Region VII of the National Association of Foreign Student Advisers (NAFSA). Before joining Stetson in 1990, Velaine worked with Florida Institute of Technology in St. Petersburg, Florida and Jacksonville State University in Jacksonville, Alabama.