U.S. Legal System and Trial Advocacy Skills
Professional Certificate Program
International Attorneys: Stetson's certificate program allows you to learn at the No. 1 school for trial advocacy in the U.S. while also enjoying one of the top tourist destinations in the world.
Program Dates:
July 21-25 (online)
August 4-15 (on campus)
Stetson's three-week certificate program in U.S. Legal System and Trial Advocacy Skills teaches the fundamentals of the U.S. legal system, legal analysis, and trial advocacy. Participants spend one week completing online coursework and two weeks on Stetson's beautiful campus. This certificate program is designed to help enhance your professional skills and curriculum vitae.
With the U.S. Legal System and Trial Advocacy Skills Professional Certificate Program, students will learn to:
Become familiar with U.S. torts, constitutional, criminal, and civil law
Understand the similarities and differences between the U.S. legal system and that of typical civil-law countries
How to express legal argument orally and in writing
In addition, students will have opportunities to:
Argue a pretrial motion
Conduct an opening or closing argument
Engage a witness in direct and cross examination
Meet judges, attorneys and participants from around the world
Course instruction will take place online and on campus. The online component of the course will include an orientation to the U.S. legal system and exposure to substantive areas of U.S. law. The live course components will focus on legal and trial advocacy skills. Upon completion of the program, participants will receive a Certificate of Participation.
Extracurricular Activities
Stetson Law will provide transportation for:
An optional visit to Orlando and Disney World
Field trips to Pinellas County Correctional Center and the Second District Court of Appeals
How to Apply
To apply for enrollment, please submit an online application.
Participants will be selected on a rolling basis. Limited space is available.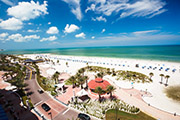 Why Visit Tampa Bay, Florida?
New York Times named St. Petersburg one of "52 Places to Go in 2014"
St. Pete Beach ranked "America's Top Beach" in 2012 by TripAdvisor
Forbes magazine says St. Pete is experiencing an "art- and food-fueled renaissance"
Salvador Dali Museum houses one of largest collections by famed artist
Need more reasons? Check out:
Visit St. Petersburg/Clearwater
Program Cost:
$2,000 (includes course fee, materials, legal field trips, and some meals)
Selected participants will be sent information on how to make payment.
Housing Options:
For on-campus housing options, please contact Stetson's Office of Residential Life at housing@law.stetson.edu or 727-562-7886. For information about area hotels, see Tampa Bay Hotels.