Graduation Events
GRAD FAIR - Oct. 28-29, 2014
Congratulations on your upcoming graduation!
Stetson will host the Grad Fair in October to help you prepare.
Fall 2014 and Spring/Summer 2015 degree candidates are required to attend the Grad Fair and complete the items below.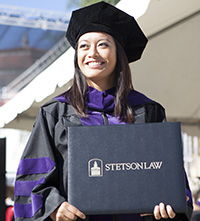 By Oct. 21, please do the following:
1. Submit Grad Fair Registration Form to schedule attendance.
2. Complete the required tasks below by listed deadlines.
3. Submit Grad Fair Checklist.
Please schedule when you will attend the Grad Fair on Oct. 28 or Oct. 29, 9 a.m.-1 p.m. or 3-7 p.m., with the registration form above by Oct. 21. Your session at the fair should last about 30 minutes.
At the Grad Fair, you'll be able to have a professional portrait session, verify commencement booklet information, record name pronunciation, collect bar prep information, and speak with Career Development, Alumni Relations, Financial Aid representatives and more.