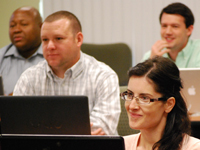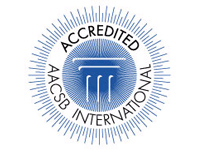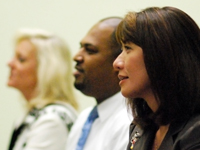 Admission - JD/MBA Program
Thank you for your interest in the JD/MBA program at Stetson University. To participate, please complete the application to the JD degree program at the Stetson College of Law. Following admission to and completion of your first year of law studies at the Stetson University College of Law, you may then apply to the JD/MBA dual degree program.
Applications for the JD/MBA dual degree program are reviewed on a rolling basis for the fall, spring and summer terms. In order to prepare you for admission to the JD/MBA dual degree program, the priority application dates listed below secure first priority for class registration. The final application date ensures that your application will be reviewed in a timely fashion and given ample time for class registration and managing tuition and funding options.
To apply for the JD/MBA program, please submit the following application requirements as instructed below.
We look forward to reviewing your application!
Application Materials
Required Application Materials
$50 application fee
Official transcripts from all colleges/universities previously attended*
LSAT scores*
Two letters of recommendation (professional or academic)*
When applying to the JD/MBA program, you may request that copies of your transcripts, recommendation letters and LSAT scores be sent from the College of Law to the Office of Graduate Admissions, which will also require an official copy of your transcript from the college of Law reflecting your progress in the JD program. Transcripts and LSAT scores are sent from the registrar's office at the College of Law. You may be exempt from the GMAT by presenting acceptable LSAT scores.
Application materials should be sent to Stetson University:

Stetson University Office of Graduate Admissions
421 N. Woodland Blvd.
Unit 8289
DeLand, Florida 32723
Fax: 386-822-7112
Email: gradadmissions@stetson.edu