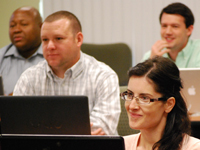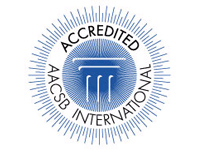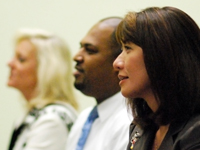 Admission
Stetson University's Graduate Admissions office accepts applications for all graduate business programs on a rolling basis. Apply now! In order to prepare you for admission to your program of choice, the priority application dates secure first priority for class registration. The final application date ensures that your application will be reviewed in a timely fashion and given ample time for class registration and managing tuition and funding options. We look forward to receiving your application!
Please send all application materials to the address at right. Contact the Office of Graduate Admissions at gradadmissions@stetson.edu or 386-822-7100 with any questions regarding the admission process.
The application procedures for the J.D./M.B.A. and M.B.A. programs are the same, but the J.D./M.B.A. program has additional requirements before you may apply to the M.B.A. program.
Important Dates
Spring 2014
Priority application date: Monday, October 7, 2013
Final application date: Monday, December 16, 2013
International application final date: November 18, 2013
Classes begin: January 13, 2014
Summer 2014
Priority application date: Monday, March 24, 2014
Final application date: Monday, April 14, 2014
International application final date: Monday, March 10, 2014
Fall 2014
Priority application date: Monday, April 21, 2014
Final application date: Monday, July 21, 2014
International application final date: TBD
Application Materials
Application for Admission - A $50 matriculation fee is required for students applying to the M.B.A. program; the matriculation fee can be paid online.
Undergraduate and graduate transcripts - Official, sealed transcripts from all colleges and universities attended. Students whose most recent attending institution is Stetson University may omit this step.
GMAT Scores - Your GMAT scores should be sent directly from the GMAC testing center to Stetson University.
References - At least three persons (named on the application) must mail letters of recommendation to Stetson University.
Resume - All applicants must submit a current resume to Stetson University.
Personal Statement - Attach a personal statement addressing your career goals, your reasons for pursuing this graduate degree, and why you want to attend the Stetson University School of Business Administration.
JD/MBA Program
All applicants to the J.D./M.B.A. program must first complete the admission requirements for the Stetson University College of Law; at the end of your first year of studies you may apply to the M.B.A. program. You must be independently accepted into both programs.
For detailed information, please see the J.D./M.B.A. program page.
International Students
The following additional requirements apply to international applicants:
Submit your transcripts
Official transcripts from the colleges and universities you attended are required. If the grading and evaluation system used by your education system differ from those used by the United States education system, you must provide official translation and a course-by-course evaluation to Stetson University. Please use one of the following evaluation services for your course-by-course evaluation:
Take an English proficiency test
All applicants for admission whose native language is not English are required to take the Test of English as a Foreign Language (TOEFL) and submit a combined scored of 550 or better on the paper-based test (new scoring of 213 or better) or 80 or better on the Internet-based test. Please contact the Office of Graduate Studies for additional information; the office's contact information is at right.
Submit immigration forms
Upon admission, the Department of International Learning will assist students in obtaining a student visa. To issue the U.S. Immigration Form I-20 "Certificate of Eligibility," the department must have on file acceptable documentation and evidence showing that the admitted student has funds to pay for the first year of study at Stetson University. The student should keep a copy of this financial documentation as he/she will need to present it at the U.S. Embassy or Consulate as part of the visa application procedure. Please contact the department at 386-822-8165 or isss@stetson.edu with questions regarding this step.
Please send all necessary documentation to the Department of International Learning at:
Department of International Learning
Stetson University
421 North Woodland Boulevard
Unit 8412
DeLand, Florida 32723
Student Housing
If you will need assistance in finding housing or would like to explore student housing options, please contact the Stetson University Office of Housing and Residential Life at reslife@stetson.edu or 386-822-7201.