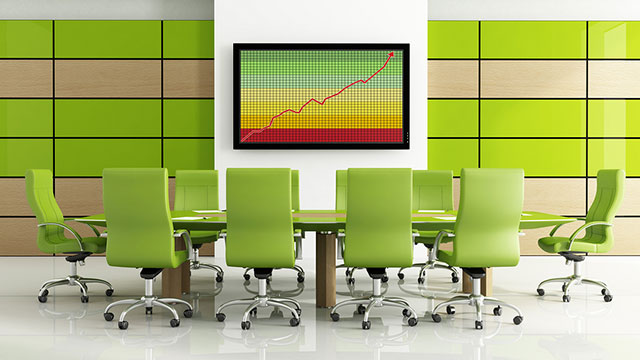 Center for Business Intelligence and Analytics
With ever increasing amounts of data, organizations are identifying the importance of Business Intelligence and Analytics (BIA) for decision making. Gartner recognized BI as one of the fastest growing areas, as organizations seek to compete and differentiate themselves through data-based decisions. To realize the full potential of these technologies, organizations require well-trained and educated management and analytic subject matter experts to transform the data and results into actionable information for decisions. A McKinsey Global Institute report identified that the U.S. will need 1.5 million data-savvy managers and analysts, and will face a shortfall of 140,000-190,000 analytics workers. In a survey by the Accenture SAS Analytics Group, nearly three quarters of organizations indicated an investment priority of improving analytical skills of current employees, with more than half indicating a priority of hiring more analytical talent.
In order to meet this demand, the Center for Business Intelligence and Analytics (CBIA), housed within Stetson University's School of Business Administration, seeks to develop knowledge and skills vital in the fast-changing field of business, through developing cutting-edge managers and analysts with skills in decision-making using analytical techniques. The center provides the framework for joint academic and industry collaboration to develop the next generation of industry experts. The core components of the center include partnerships, placement, programs, and projects.
Featured News
AMCIS Call for Paper
1/13/2014 -- Drs. Wingyan Chung, Shahram Amiri and Joseph Woodside chair the mini-track on BI and Analytics for Intelligence and Security Informatics for the Americas Conference on Information Systems. The conference will be held in August 2014 in Savannah, Ga.
Stetson/SAS Joint Certificate in BI and Analytics
11/20/2013 -- Stetson and SAS has agreed to offer a Joint Certificate Program in Business Intelligence and Analytics. Students will learn BI and analytics concepts, tools, and techniques. The industry-leading SAS software will be used significantly to develop hands-on skills (see the poster and program details).
CBIA Featured in FORWARD Florida Magazine
10/28/2013 -- The October issue of FORWARD Florida Magazine features CBIA's work in developing big data expert. The article describes the CBIA and its efforts in building programs and courses on business intelligence and data analytics. The bi-monthly business magazine is published in cooperation with the Central Florida Partnership, Florida High Tech Corridor Council and Tampa Bay Partnership.
UA/Stetson research paper accepted
10/24/2013 -- A joint research paper between the University of Arizona's BORDERS Center and Stetson University is accepted to the 23rd Workshop on Information Technology and Systems. In the paper, Dr. Wingyan Chung, Associate Professor at Stetson University, analyzes sentiment of social media discussion on US immigration reform. The paper is co-authored by Dr. Daniel Zeng of the University of Arizona, whose MIS program is ranked consistently among top 5 in the nation.
Florida Department of Health visits CBIA
9/23/2013 -- Thomas Bryant III (front right in picture), Director of Informatics and Assessment, and Mr. Gregg Ballard (front left in picture), Director of Finance and Accounting of the Florida Department of Health (Volusia County) visit CBIA and discuss collaboration opportunities. Dr. Laura Gunn, Chair of Stetson Integrative Health Science Department, attended the meeting together with Mr. Sidney Johnston, Dr. Wingyan Chung, and Dr. Joe Woodside (see picture, video).
Company President and BI Director visits CBIA
9/20/2013 -- Alex Brown (BBA '00, MBA and JD '03; first left in picture), President of Southern Fulfillment Services, and Brandon George (second left in picture), Director of Business Intelligence at Sunrise Technologies, met with Dean Schwarz, Dr. Shahram Amiri, Dr. Wingyan Chung, and Dr. Joe Woodside. The group discussed partnership opportunities with CBIA and research and curriculum developments (See picture).
Stetson Associate VP presents in Predictive Analytics class
9/11/2013 -- Raymond Barclay, Ph.D., Stetson University's Associate Vice President in Analytics and Decision Support, gives an invited talk on his team's work (see the picture, video) in a class of BSAN465 Predictive Analytics taught by Dr. Wingyan Chung. Dr. Barclay talked about tremendous career opportunities in predictive analytics. He has extensive experience and expertise in institutional research, assessment, academic budgeting, enrollment management, institutional effectiveness, and program evaluation.
$15,000 Scholarship for BSAN Major
9/3/2013 -- A new annual scholarship of $15,000 (per student) has been approved for students majoring in Business Systems and Analytics (BSAN), announced by Dr. Shahram Amiri, Chair of the Department of Decision & Information Sciences. The scholarship is provided by Stetson University's Admission Office. The BSAN majors will be the only recipients of this scholarship in the University.
CBIA collaborates with Security First Insurance
8/13/2013 -- The Florida-based home-owner insurance company, Security First, invited representatives from the Center for Business Intelligence and Analytics to visit their operations. Security First expressed strong interests in partnering with the CBIA to recruit top talents and to pursue mutually beneficial projects.
NSF Computing in Context Workshop held at Stetson
8/6/2013 -- The workshop aims to develop and evaluate new teaching materials and pedagogies in the discipline of Intelligence and Security Informatics. Five educators participated in this workshop: Wingyan Chung, Joseph Woodside, Ray Villalobos, Daniel Plante and Albert Chan.
Healthcare IT Paper Accepted
2/19/2013 -- The paper titled "Enhancing Information Privacy and Data Sharing in a Healthcare IT Firm" has been accepted to Journal of Information Privacy and Security. Authored by Wingyan Chung and Lewis Hershey, the paper examines the design of a data sharing system in a real-world company that produces and markets wearable communications devices for healthcare organizations. This research developed principles and guidelines for enhancing information privacy and data sharing and illustrates their application in a healthcare IT firm. Please see the journal's website for more information.
Top Ranking in Business Intelligence and Analytics
12/20/2012 -- Wingyan Chung has been ranked among the top 20 academic authors globally in business intelligence and analytics, according to an article published in MIS Quarterly. The article, titled "Business Intelligence and Analytics: From Big Data to Big Impact," (full text) was published in the December 2012 issue of MIS Quarterly. The journal had the highest impact factor (4.978) of all peer-reviewed academic journals in the field of business from 1992 to 2005; the I.S.I. impact factor for 2011 was 4.447.