Lawson Program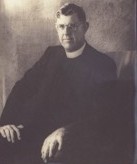 The Lawson Endowment Program
The Lawson Endowment Program is named in honor of Father Leroy Lawson (1917-2001), a long-time Visiting Professor of Philosophy at Stetson University (1952-1966). Born in Los Angeles, Father Lawson earned the Master of Divinity degree from the Episcopal Divinity School of the Pacific in Berkley, CA in 1941. After graduate work at the General Theological Seminary in New York City, he served as Chaplain in the U.S. Maritime Service and was posted to St. Petersburg, Fla. Following WWII, he was called to DeLand as Rector of St. Barnabas Episcopal Church (1947-1966), where he lived with his wife Dorothy and sons Jerry and Tommy. During his leadership, St. Barnabas grew from 200 to 1,000 members. His ministry and his appeal to young people was legendary.
The Lawson Program is designed to carry on the legacy of Father Lawson's commitment to the value of scholarship and to the importance of fostering the moral development of the human community. The Lawson Endowment was established thanks to a generous gift from a former DeLand resident, who was touched by Father Lawson's kindness and guided by his wisdom and spiritual insight.
The Lawson Scholarship Program
Scholarships are awarded annually to students of unusal ability, academic achievement and commitment to principled citizenship. This prestigious award can be renewed up to four years. Preference is given to students intending to major in philosophy and/or related field within the humanities.
Lawson Scholars
Damaris Del Valle 2004-2005
Michael Riggs 2004-2008
Kevin Hanson 2005-2006
Joseph Qualls 2005-2010
Ryan Napier 2006-2010
Claire Stubblefield 2008-2011
Jennifer Schmitt 2009-2013
Porter Crapps - 2015
Abigail Ramsbotton - 2015