Department of Education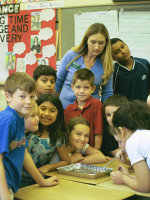 Stetson offers one of the most outstanding teacher education programs in the State of Florida. Education graduates are top recruits of local schools and districts and boasts a graduate placement rate of over 95%.
The Department of Education, in collaboration with the schools and community, stresses a holistic program of individual development perceiving students as active inquirers and participants in their own growth.
The Department of Education is housed in Davis Hall in DeLand Florida. We offer courses at both the DeLand and Celebration Campus. The Department of Education offers programs that are approved by the State of Florida and the National Council for the Accreditation of Teacher Education (NCATE)