Web Services Staff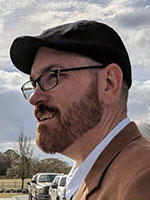 Gary Sipe
Director of Web Services
Gary leads the team that oversees the entire Stetson University web presence. This includes all aspects of the web, such as: governance, infrastructure, development, content, and online marketing. The university's website has been under Gary's stewardship since 2002 and in that time it has won multiple web-related awards.
On a personal note, Gary is a Stetson University alumnus and holds degrees in both computer science and digital arts. He is also an Eagle Scout and is actively involved in improving the local community through volunteer work.
Email: gsipe@stetson.edu
Dillon Moore
Web Developer
Dillon Moore is a web developer who works to build and maintain Stetson University's web content. Dillon is a Stetson alumnus and graduated in 2015 as a digital arts major.
Though the focus of his studies was electronic music, Dillon has a passion for web development and has had experience working in web-hosting and web-server management. Outside of work, Dillon can be found working on various digital arts projects or tabletop gaming.
Email: dtmoore@stetson.edu
Jordan Foley
Web Editor
As the web editor, Jordan manages the published content throughout Stetson University's website. He is a Stetson alumnus, having graduated in 2011 as an English major. He then obtained his M.F.A. in New Media Journalism at Full Sail University in 2014. Jordan's previous professional experience includes teaching middle school English/language arts and coaching both middle school basketball and varsity track and field at a college-preparatory private school.
Personally, Jordan is a live musician and singer/songwriter. You can find him playing his acoustic guitar and singing at various venues throughout the Central Florida area. He is also an adopted dog owner, Star Wars fan and Pittsburgh native.
Email: jfoley@stetson.edu