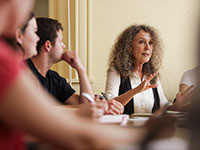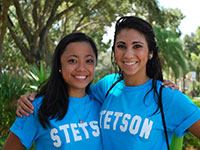 Giving to Stetson
Supporting Significance
Financial support is critical to ensuring that Stetson University provides an education that prepares students to lead lives of significance. Donor support funds everything from scholarships to new technology, making a Stetson University education not only possible but also life-changing.
"I chose Stetson because I felt at home and in love with the campus from the first moment I visited, and my scholarships were important to the pursuit of my education. Stetson would not be the place it is without continued support from alumni, and I know that so many lives have been touched because of that. I am thrilled to be joining such a strong network of amazing Hatters and can't wait to start giving back to the university!"
- Sarah Merriman
Now pursuing a M.Ed. in higher education and student affairs at the University of South Carolina
"When surrounded by professors who have a passion for their respective subjects, it helps you realize that the institution of learning is not a stale, necessary activity with defined limits, but a continuous, tangible process that will continue well beyond the years of college."
- Caleb Matthews
"Being accepted here opened up a door to a more adventurous reality. Stetson University is about more than classroom dialogues; it's about human relationships."
- Kiara John
"Stetson University provides for me a small and focused environment, where I can have close relationships with both my professors and my peers. I made my decision to attend Stetson after one visit, and I do not regret this decision in the least."
- Ava Elaine Lapham